EDP and IT Services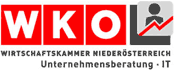 We are a member of the Lower Austria Economic Chamber,
Section of Business Consulting and Information Technology,
Professional Group of EDP and IT Services

The EDP and IT Services segment of iwBS offers you consulting services and concepts, as well as project management for enterprises active in the areas of commerce, trade and industry.
The spectrum of our services encompasses delivery and installation of suitable software, implementation, as well as training and integration.
Our team can serve you successfully in the following fields:
Internet Services / Business online
Internet Access
Intranet Solutions / Internet Solutions
Network Support and Adaptation
Software Development
Merchandise Management Systems
Web Design
A professional website has a decisive impact on the success of your company.
We will be delighted to create the website for your company or to enlarge and redesign your existing Internet appearance. If you are not yet represented in the World Wide Web, we will be pleased to provide our consulting expertise working together to develop and bring your perfect website online.
In addition, we offer the following supplementary services:
Software Translation
Translation of technical documentation into various languages
We provide you excellent service and extensive consultation. We are looking forward to your ► contacting us. If you have any questions, please send us an e-mail to
Prices
As our offers are tailored to the individual needs of our customers, we cannot present any specific price list for this segment. Please tell us your wishes; we will be delighted to present you an attractive quotation. Please send us an email to .
Terms and Conditions
The terms and conditions for Information Technology Experts apply. The following files are available for download:

Terms and Conditions IT for the Sale and Delivery and


Terms and Conditions IT - Software Support Services (PDF files).
© 2003-2023 iwBS Bilanzbuchhaltungs GmbH - INTERNER BEREICH.

WEBM@STER | IP: @ 27.03.2023 06:40:23 |